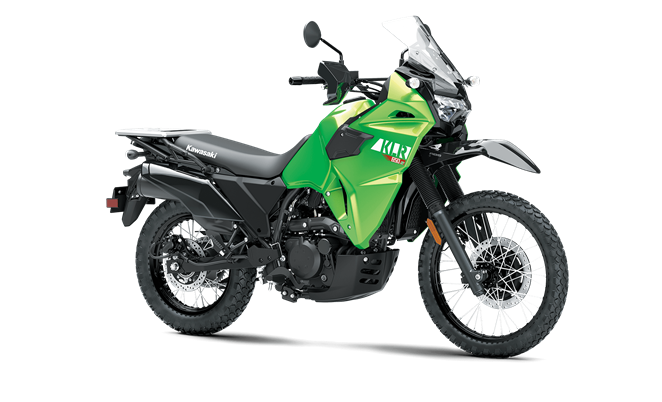 The new 2023 Kawasaki KLR 650 S dual-sport is launched in the United States
Kawasaki has launched a new version of the KLR 650 for 2023, as the dual-sport gets an "S" variant.
The KLR 650 is by no means the only Kawasaki model to use a 650cc engine, but it is one that exploits its off-road potential.
Since emissions regulations began to tighten in Europe, Kawasaki stopped imports of the dual-sport motorcycle, although in the United States it was nearly ubiquitous, even until the new model was launched in 2021.
For 2023, the KLR 650 gains an "S" at the end of its name. The KLR 650 S will apparently also only be available in the USA and is primarily a lowering kit for the KLR 650.
On the KLR 650 2021, the seat height is 871 mm, while on the new KLR 650 S it is reduced to 815 mm. Similarly, the front wheel travel is reduced from 200 mm to 170 mm, and at the rear from 193 mm to 185 mm. Additionally, there is a new suspension linkage in the rear.
In the US, ABS is still optional, which means there are two versions of the KLR 650 S: one with ABS, one without. With ABS the dry weight is 209 kg, and without ABS it is reduced to 207 kg, but with a fuel tank of 23.1 liters there is also plenty of scope to increase this.
Both ABS and non-ABS versions are available in "Pearl Storm Grey" and "Candy Lime Green", but they do not share price.
As you might expect, the ABS version is more expensive than the standard KLR 650 S. In the US, the KLR 650 S ABS will cost $6,899, while the ABS version will cost $7,199. So $300 for ABS, or around £270.
2023 Norton Commando 961 review | The best of Britain is back!