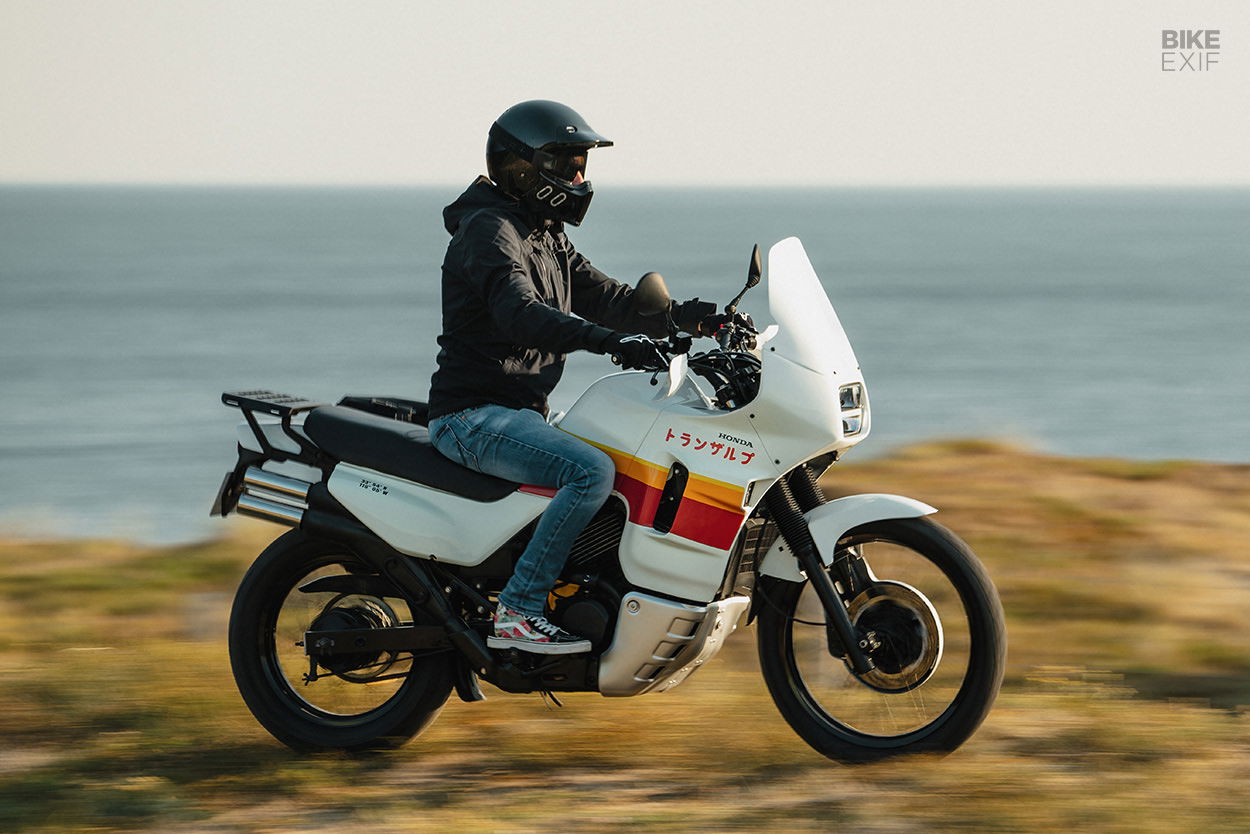 Honda Transal … | Double sport chic with epic proportions
[ad_1]
During an epic trip to Joshua Tree National Park in California, Yann Bakonyi, chief designer of French motorcycle designer Viba, was riding in a Jeep Wrangler and thought (something like) "this trip would be so much better. on a motorcycle ". Enter the 1987 Honda XL 600V Transalp.
As rumors circulate that Honda is working on a new Transalp for a future version (that would be really cool) to compete in a really heating up middleweight market, Yann has taken it in hand – choosing to restore the Transalp. to its former glory as a restomod rather than following the custom route.
The main goals, according to Bike Exif (check their site for full build info), were to bring the classic adventurer into 2021 while maintaining his looks, but also to improve ride characteristics.
Tearing off the nut and bolt from the bike, the swingarm and frame received a new coat of paint, redesigned the wheels, and were fitted with Avon TrekRider hoops, paired with Brembo disc brakes and lines in braided steel.
By keeping the original Showa forks but replacing the oil and shims, a "shock absorber" was installed to store things with a reinforced front sprocket sprocket, and Yann chose to keep the original bash plate. and a majority of the OG fairing style.
Viba is known for its design and 3D printing technology, so naturally there are some that are installed here: special housings for LED headlamps, an aftermarket voltmeter holder and a CNC machined rear rack with integrated turn signals.
The end result is a spectacular preview of what could happen if a manufacturer decided to recreate a classic formula with modern technology. If Honda is really working on a Transalp, take some notes! Nudge nudge wink.
Who doesn't like a good restomod | Honda Transalp
My favorite on this restomod is the topographic map on the screen, of Joshua Tree and a nice nod to the origins of this beauty. Don't expect to see much through the screen, but sometimes style comes at a price.
And if I had the money … well, I would pay that price!
Watch: Tour of the Honda NC500 with CB500X, CBR500R and CB500F
[ad_2]