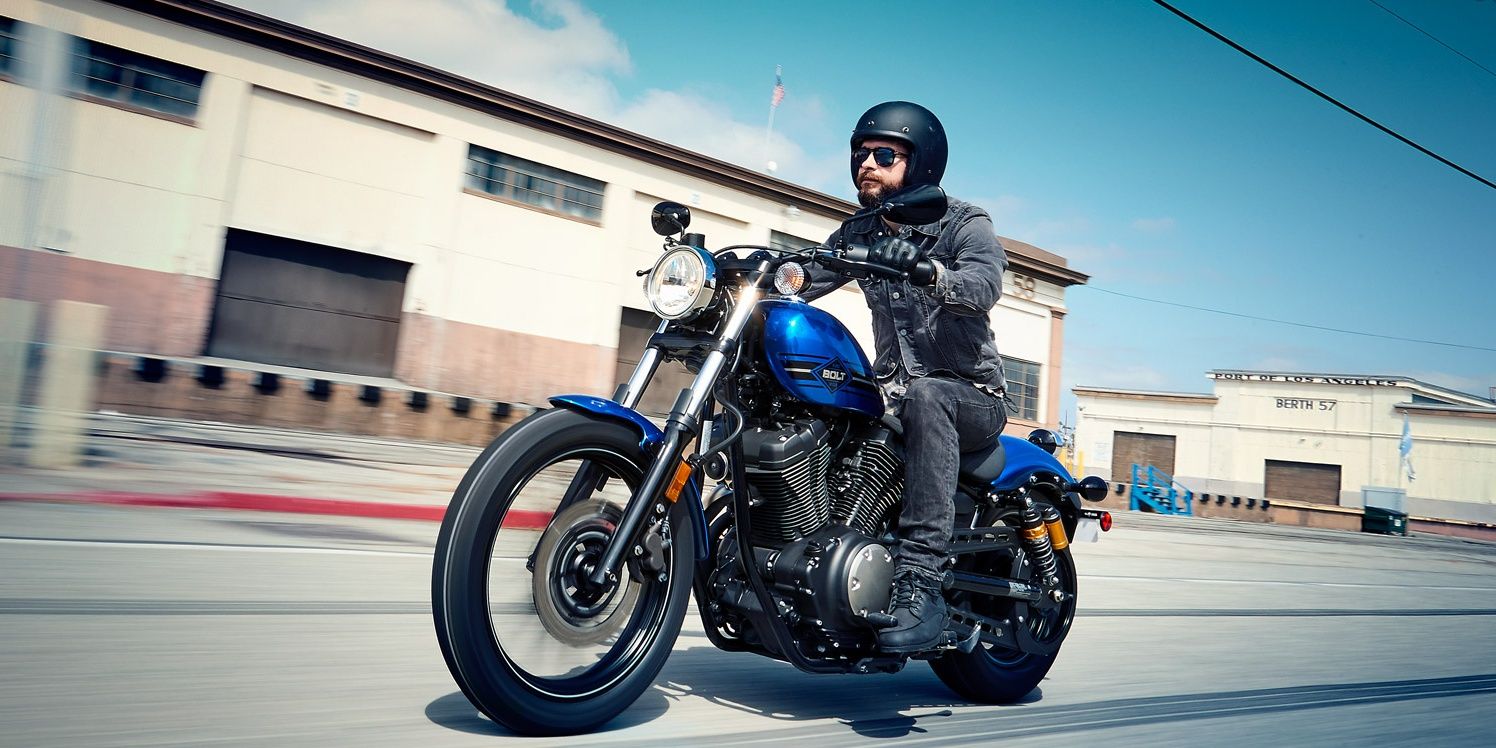 10 reasons we love the Yamaha Bolt
In motorcycling, cruisers are considered the bike of choice for laid-back, easy-going individuals or retirees from the naked or sport bike scene. The cruiser motorcycle style began in the 1930s to 1960s with a casual style bike. Most of these cruisers had low seats, arms up and feet forward.
With the rise in popularity, most brands began making plans for their own 1960s iterations of these bikes.Yamaha came up with a great Japanese alternative with the Bolt, aiming to provide all riders with a cool, laid back and comfortable motorcycle.
ten

Reliable and low maintenance
The Bolt uses a 942 cc or 58 cubic inch air-cooled engine. This makes it easy to maintain, unlike most liquid-cooled 1000cc bobbers. The Yamaha Bolt also features a bare chassis that shows off its handsome engine and provides easy access to crucial components.
It is a belt-driven bike, which allows you to reduce chain maintenance costs. The belt runs cleanly, ensuring you never have to lubricate or clean it. This allows riders to enjoy a ride with less noise and jerkiness. Available non-adjustable front forks and twin rear shocks also provide a smooth ride.
9

Easy to upgrade
The Bolt is the perfect canvas if you enjoy customizing your motorcycle. The options of the Yamaha Bolt are limited only by your imagination. You can upgrade the engine, providing more power and low-end grunt. An idea of ​​some mods to do include slip-ons, intake change, ECU flash, etc. Such modifications can help you get more power from the Bolt.
You can also easily upgrade the front and rear suspension with adjustable forks. The advantage is that these components are readily available online.
Related: These are the best mods for Cruiser bikes
8

Cheaper than the competition
You can buy the Yamaha Bolt R-Spec for $8,599, a lower price than most of its competitors. Take an example of Triumph Bonneville Bobber that costs $14,690 or the Indian Scout Bobber at $12,249. The Bolt aims to give you value for money and unlimited fun.
Yamaha also offers a plethora of modification options, allowing you to fully customize the Bolt to your liking. This helps you get more performance out of the bike or add style and comfort components.
seven

Comfortable ride
Riders can take advantage of a bobber-style saddle for comfortable riding and solo rides. The seat helps deliver a minimalist bobber look while providing the support needed for long rides. Besides the seat, riders can take advantage of the easy-to-use foot position. The pegs are strategically placed to provide the best comfort and control.
The Yamaha Bolt also offers plenty of comfort options and advanced suspension to ensure a fun ride. Cyclists can also take advantage of its wide degree of customization, thus obtaining accessories that will improve their comfort and performance.
Related: 5 Coolest Japanese Cruiser Bikes On The Market Right Now (5 American Cruisers We'd Rather Buy)
6

Easy to handle
The Bolt's low ride height allows all riders to comfortably maneuver the bike. The placement of footpegs and handlebars also plays a huge role in ensuring that every rider can get on the bike and feel at home.
Weighing just 542 pounds, the Bolt is neither heavy nor light. Its weight makes it enjoyable for highway cruises and regular canyon rides. Plus, the engine placement helps keep the weight low, making it manageable for new riders.
5

Nimble wheelbase
The Bolt has a 61.8-inch wheelbase which helps deliver excellent handling. The short wheelbase lets you handle tight corners with precision and enjoy solid, stable handling on the open road. Its nimble wheelbase works hand-in-hand with footpeg and handlebar placement to give riders a great ride.
The wheelbase also makes the Bolt ideal for both beginners and experienced riders. Anyone can easily move it skillfully and carefully while maintaining stability on the road. This helps the bike feel more nimble, especially with its low seat height.
Related: 10 awesome cruiser bikes every self-respecting biker should ride at least once
4

Seatbelt
Most Yamaha motorcycles are equipped with a chain drive system. However, the Bolt features a 21mm-wide belt drive system that provides a slim, clean look at the rear. The belt is made from a carbon fiber core which helps add durability and strength. This means less maintenance for the rider.
A belt-drive system helps reduce bike weight while providing a quieter, smoother ride. The system can also last for hundreds of thousands of miles, unlike chain which requires frequent cleaning and lubrication.
3

Reasonable travel
The displacement of the Bolt makes it a fun bike to ride. With a 942cc or 58 cubic inch air-cooled engine, you'll never have to rev up for power. Power is readily available and you can effortlessly shift through all five gears with ease.
Its torque also allows it to get up and go, making it a fun city bike and highway cruiser. Plus, since the Bolt has an engine under 1000cc, you pay less for insurance. It makes the bike fun to own and ride.
Related: 10 Badass Cruisers That Can Beat The New Mustang At 60 MPH
2

Rider-focused engine
The base spec Yamaha Bolt has a 50hp engine. It may not seem like much power, but it lets you enjoy the ride to the fullest. Getting the more powerful 65hp Bolt R Spec lets you enjoy a nimble bike with a great-sounding exhaust note.
Many of the components used on the Bolt include Yamaha's advanced fuel injection and ignition timing technology to help deliver peak performance. This helps deliver strong low-end and mid-range torque that's sure to put a smile on your face.
1

Sleek bobber
The Yamaha Bolt pays homage to the city bobber vibe with a traditional teardrop-style 3.4-gallon tank. This tank has a slim shape with flattened top and side surfaces. Riders can also take advantage of the premium rimless design for cleaner lines and enhancing the custom styling of the Bolt.
The Bolt also has a low and narrow frame, with the raised tank targeting the casual-type rider. Its style appeals to all types of riders, especially those looking for a cool and stylish motorcycle. Owning the Bolt always makes you want to ride.